Being healthy
Children attending the pre-school will experience a variety of healthy and nutritious foods provided by Leicestershire School Foods support service who have been supplying our school meals to Greenfield for many years.
All food is freshly prepared on site and are nutritionally balanced, providing carbohydrates, proteins and vegetables, the crucial elements of a balanced diet – and giving children the energy they need to enjoy a busy day at pre-school. Typically, a day's menu will be:
Breakfast - choice of healthy cereals, toast (wholemeal or high grain white) with different spreads, fruit & yoghurt and milk (served by 8.30am).
Mid-morning snack - fruit and milk or water.
Lunch - hot meal (meat or vegetarian) with a choice of dessert (served between 11.45am and 12.30pm).
Afternoon snack - fruit and milk or water
High tea - could include: toast/sandwiches/rolls/pittas/wraps; spaghetti/beans on toast; pasta; humous with carrot and cucumber sticks; crackers and cheese (served between 4.15pm and 4.45pm).
Water is available throughout the day.
Special diets due to allergies and food intolerances can be catered for. Please discuss this with a staff member if your child has a particular need.
Children take part in food tasting session so there are lots of opportunities for them to learn about and experience different foods, linked to the currciulum and festivals.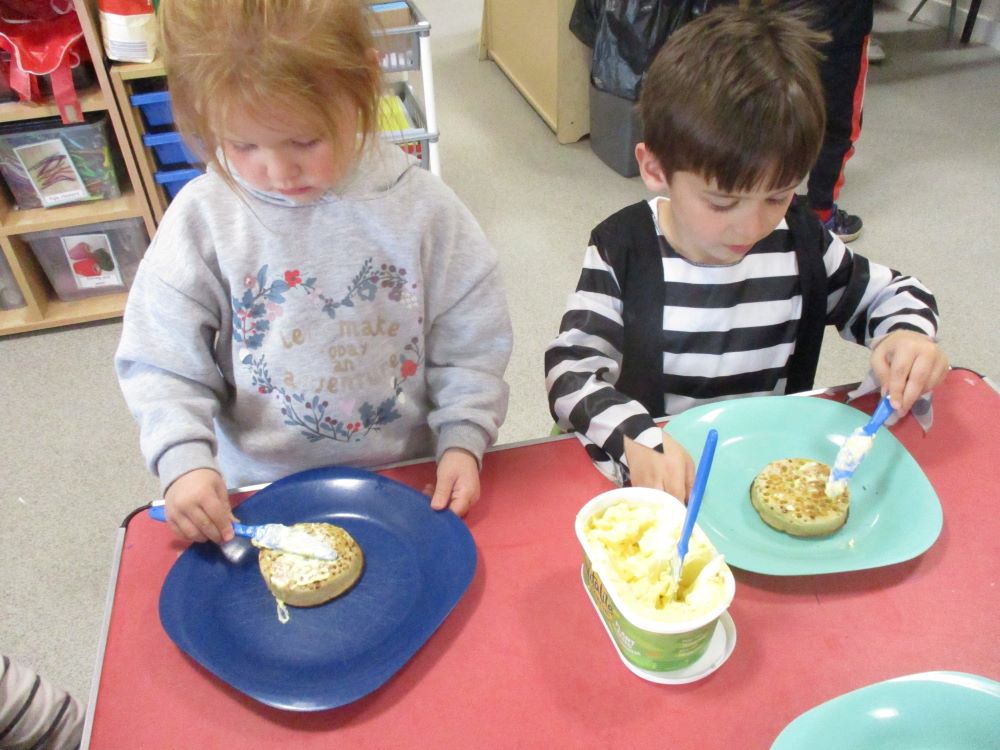 Being busy and active
Children love to be busy, exploring and understanding new things, playing games and being excited by the world around them. Our pre-school is designed to allow for 'free flow' so children can move in and out of the building to their playground through large doors and get lots of outdoor play.
Children take part in running, skipping, jumping and hopping games and we have plenty of bikes, trikes and toy cars for outdoor exercise and role play.
Outdoor space
At Pre-School we have three outdoor spaces - our front garden play space, our play area behind the building and our natural mud garden alongside the building. We are able to use the woodland at Greenfield where children take part in Forest School sessions. They learn about the natural environment linked to literacy such as the Stick Man by Julia Donaldson.
We also participate in the Active Bean programme aimed at developing early years staff to deliver more creative and purposeful activity levels.