Transition
At the Greenfield Pre-School, everything from the environment to the routine is carefully considered and planned for, to ensure our children have a smooth transition to Greenfield Primary School or any other primary school you may have chosen for your child.
What we do to help your child
This could be as simple as our carpets with bottom spots, which are found not only in our Pre-School classrooms but our foundation classrooms at Greenfield. We plan into our daily routine activities or tasks such self-registration, which are practised ready for children to independently accomplish this at school.
Familiarisation with 'big school'

The children at Pre-School have opportunities to play with and use the facilities within Greenfield Primary school, helping them to familiarise themselves with rooms and environments prior to starting school. They will have their dinner in the dinner hall to allow them to be confident within this environment and recognise the staff serving their dinners. The children also access the hall for our Active Bean sessions which are similar to the PE sessions that the children will take part in when at school.
Forest School

Another exciting opportunity the children will experience in Foundation Stage and at the Pre-School, is our Forest School programme. The children explore our school woodland area and participate in Forest School sessions. Forest schools help build life-long skills such as problem solving, critical thinking, independence, team work, resilience and learning boundaries. At Greenfield we feel these skills are of the upmost importance and are some of the key ingredients to creating successful life-long learners.
Meet my Teacher
Children who attend our Pre-School also have extra opportunities to meet our Foundation Stage teachers and also visit the Foundation Stage as it is directly next to the Pre-School. In the summer term, the teachers regularly visit the Pre-School to meet and greet the children, play alongside them and read stories. Our Lead Teacher,
Hannah
Toplis, works closely with all the Foundation Stage teachers and meets with them regularly to ensure all key information is passed on. She works carefully alongside to help plan and support a smooth transition for all our children.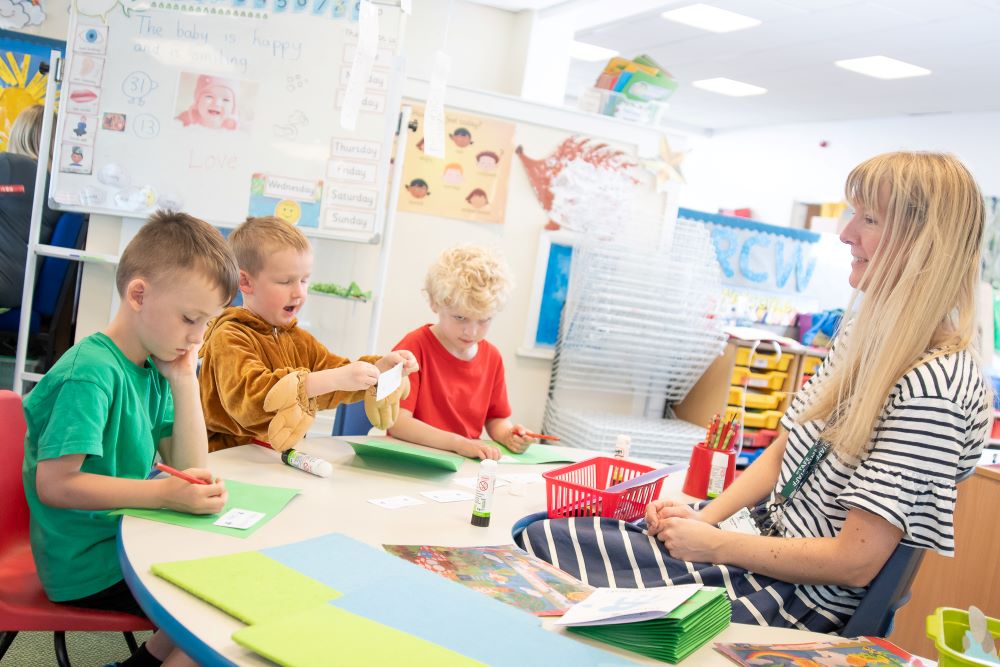 Other schools
Hannah will also invite teachers from other primaries to meet your child in the setting, observe them and share key information. This ensures that all of our children get a smooth handover to the next stage of their school life regardless of where they go next.
At Greenfield Pre-School promoting children to be happy, confident and independent learners is always at the forefront of everything we do and the provision we do. As we know this will not only put them in good stead for starting school but also for life beyond.
Transition care
We aim to support working parents and know that the time timetable of transition to school may mean that some children will require care inbetween their part time sessions. If you would like to book transition sessions during the first two weeks of school, please contact the school office.
Please click on the link below for our transition fees for 2023. Please note that FEEE funding cannot be used for transition fees and fees are to be paid in full by 31st July for autumn term sessions. Childcare vouchers can be used in the usual way.